Abstention Roger FEDERER.
From his serve to his decency to his consistency—it's hard to say goodbye to someone who was good in so many ways.
Talking Tennis with War-like:
Learning from Roger Federer:
Many years ago, I stumbled upon an interesting word to describe what Roger Federer brings to tennis, and I never came across a better one. I will miss Roger Federer's grace and elegance after having reported on him through his entire career, but there are lots of other things I will miss as well.
I will miss Roger Federer's give out. . .
Because it is definitive, like Ted Williams' baseball swing, or Ray Allen's jump shot. It begins in an almost woeful way, with Federer slumped over from the waist, as if fatigued. But what comes next is anything but ballet.
Scissoring his arms, Federer bends deeply at the knees, extends his left arm gently and fully in the toss, and explodes upward. By the time he's hit the ball, his feet are a good 10 or 12 inches off the ground.
I will miss Roger Federer's dignity. . .
Because that virtue is not often promoted in a me-first world. Elite players sometimes revel in entitlement, turn friends into minions and sycophants, take all the pampering and fawning in their Disney-esque environment.
I never heard of Federer ducking an obligation, blowing off an appointment, or acting superior or dismissive except in the heat and stress of competition.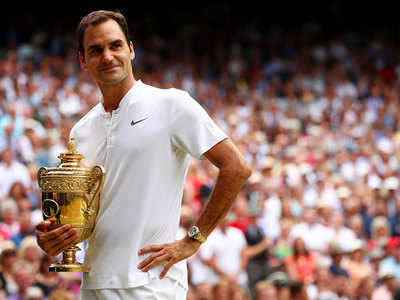 I will miss Roger Federer's consistency. . .
I will miss Roger Federer's angry outbursts. . . because they were few and far between, which makes them that much more memorable. They proved that Federer is not a human smiley-face icon blessed with genius, but subject to the same emotions, moods, and anxieties as anyone another athlete.
My favourite quote overheard in the heat of battle: During a match plagued by bad calls and overrules, Federer chuntered: "We need a prankster for this carnival."